Demonstrating FauxFire™ in Booth #670 at EXHIBITORLIVE 2017, March 12-15
Las Vegas, NV (March 8, 2017) – Technifex, a leader in entertaining technologies will be exhibiting at EXHIBITORLIVE, at the Mandalay Bay Resort in Las Vegas, March 12-15, featuring unique and custom technical effects utilized by experiential and exhibit designers in their award-winning exhibits, custom displays, and experiential events.  Technifex will be demonstrating their patented flameless fire effect FauxFire™ in Booth #670.
Award-winning in concept design, engineering, and custom fabrication, Technifex not only services the largest of theme parks, museums, and attractions globally in the custom design and production of massive-scale immersive experiences, but also supplies top consumer brands in retail, clothing, sports, gaming, F&B, automotive, and more, with stunning, traffic-stopping, eye-ball grabbing displays, exhibits, events, and experiences.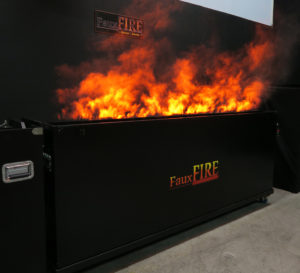 Technifex supplies technical effects and customizations for top consumer brands and IP's including Harry Potter, E3 Electronic Arts, Mattel, Old Navy, Walt Disney, Anheuser Busch, Ford Lincoln Motors, AT&T, Chrysler Motors, etc. that integrate traffic generators such as FauxFire™ flameless fire effects, FlowScreen™ water effects projection displays, mechanical automation and animation, and incredible visual illusions.
"For 33 years, Technifex has been creating WOW for our clients and we are excited to once again attend the ExhibitorLive show.  Technifex has a very broad range of expertise in the development of custom show and interactive technologies for trade show applications.  Our clients frequently win "Best of Show" honors when they incorporate Technifex's expertise into their trade displays and exhibits.  If exhibitors want to stand out from their competitors, Technifex can design and fabricate the specialty technologies to highlight any company's products and services," remarks Monty Lunde, President, Technifex.
About Technifex, Inc.
Founded in 1984, Technifex is a world leader in concept design, engineering, and fabrication of show and entertainment systems, permanent iconic features and special effects.  Winner of twenty-two THEA and IAAPA awards, Technifex provides expertise through all phases of project development, including initial brainstorming, concept design, system and facility engineering, custom fabrication, equipment installation and commissioning for hundreds of theme parks and attractions, waterparks, museums, science centers, libraries, casinos, retail and corporate projects, tradeshows, and events worldwide.  Technifex's sister company, Technifex Products LLC holds numerous patents for simulated fire, water screen technologies, and specialty projection systems. All products are developed, engineered and fabricated at Technifex's facilities in Valencia, California.  www.technifex.com
# # #
Media Contact:  Tracy Balsz, 323.428.9075 (direct)  tracyb@technifex.com