Peter Kelly was my very first friend in Los Angeles.  I moved from the Bay Area to LA to start working for WED (now Walt Disney Imagineering) on the same day as Peter, in September of 1981.  Both fresh out of college and eager to start working at Disney, we rode together in the company van to the Disney Studios and other facilities, as was Disney's program for familiarizing new employees joining the company.  During that van ride, a lifelong friendship began.  Though we only worked on a few projects together, we spent a great deal of time after work discussing special effects challenges and generally solving the problems of the world.  Peter frequently hosted parties at his place and was always happy to have friends over.  During the latter part of our short careers at Disney, we both lived in Orlando for much of 1983, working on shows at EPCOT.  This is also when Peter met his wife-to-be Carol who happened to live in the apartment below mine.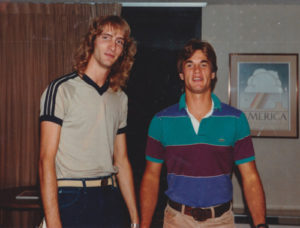 Peter and I were both let go from Disney in late 1983.  Peter went off to do special effects for the first "Nightmare on Elm Street" film and I went in a different direction, deciding to stay in the nascent Themed Entertainment industry.  In June of 1984, I had an opportunity to start Technifex with Rock Hall and develop the special effects for the Baltimore Power Plant, an indoor theme park that was particularly effects intensive.  Having recently completed his film work, Peter became the first person we hired at Technifex.
Over the years, Peter became both a senior leader at Technifex and an indispensable talent.  With his training at USC film school and cinematography skills, Peter made Technifex a powerhouse when it came to designing and producing Pepper's Ghost illusions for displays and presentations, which we patented and trademarked as "Techniscan".  As a co-inventor, Peter handled all facets of the development of this particular type of illusion, from the design and layout to the cinematography and editing.  Thanks to Peter's abilities, we developed Pepper's Ghost systems for Fortune 500 clients that put Technifex on a level with much larger exhibit companies.  In fact, production of Pepper's Ghost and related types of exhibits was a cornerstone of Technifex's success during our first 15 years in business.
Beyond his incredible technical and analytical skills, Peter also loved to make others laugh and his unique sense of humor made him the company prankster.  If there was something strangely awry in your office, or a picture was modified with a black sharpie, Peter was usually the culprit.  All in good humor and with the goal of keeping Technifex a fun and entertaining place to work.
During the first 20 years of Technifex's existence, Peter made a real and positive difference at the company.  His successes were ours and ours were his.  My heart is heavy knowing my longtime friend is gone.  I am happy he came to Technifex's 35th anniversary party last year, giving us the opportunity to acknowledge his pivotal contributions to the success and growth of Technifex.  I will miss Peter's friendship, analytical abilities and unique sense of humor very, very much.
Monty Lunde
President
Technifex
---
Peter Kelly passed away in Los Angeles on March 3rd 2020, after a long illness.
---