PRESS RELEASE – FOR IMMEDIATE RELEASE
Technifex's Water Web™, a programmable water maze, makes a splash at the
World Waterpark Association Show October 12th-13th in New Orleans.
A unique guest experience for waterpark attractions for both day and night use.
October 11, 2016 – New Orleans, LA – A leader in waterpark entertainment technologies, Technifex debuts a unique guest experience for waterpark attractions with its patented Water Web™ technology – a walk-through water maze for daytime play-use, and a mesmerizing water show with projected imagery effects for nighttime-use.
Water Web™ is a unique system that has applications in theme parks, waterparks and other entertainment settings.  At its core, Water Web™ is a grid work of one-meter long rain curtains that can be turned "on" or "off" via computer control.  Water Web™ can be manufactured to almost any size and programmed to change into any water maze configuration, nearly instantly.  Within waterparks, Water Web™ will appeal to guests of all ages.  Children and parents can safely play in the water mazes, with the option to stay dry or get wet. For waterparks looking to extend a guests stay into the evening, Water Web™ offers the opportunity to appeal to an older audience by using it as a backdrop for projected images and controlled lighting effects.  Water Web™ will provide visual energy within a waterpark and keep crowds entertained and staying longer.
Technifex will be demonstrating their new product with a fully-functional walk-through display at Booth 1301 at the World Waterpark Association Show Expo in New Orleans, October 12-13th. "This will be the first time our patented Water Web™ will be displayed at the WWA show.  The product was specifically designed for the waterpark market, so we are very excited to see customer reaction," comments Monty Lunde, President of Technifex, Inc. Currently, the first installation of Water Web™ can be seen at the Chimelong Theme Park in Guangzhou, China.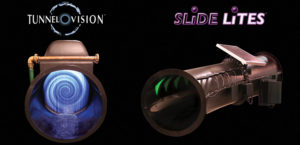 In addition, Technifex will be showcasing Tunnel Vision™ and Slide Lites™ UV LED effects products at the show, designed specifically as a cost-effective upgrade solution for existing waterpark slides.
About Technifex, Inc.
Founded in 1984, Technifex is a world leader in concept design, engineering and fabrication of show and entertainment systems, permanent iconic features and water effects.  Winner of twenty-two THEA and IAAPA awards, Technifex provides expertise through all phases of project development, including initial brainstorming, concept design, system and facility engineering, custom fabrication, equipment installation and commissioning for hundreds of theme parks and attractions, waterparks, museums, science centers, libraries, casinos, retail and corporate projects, tradeshows, and events worldwide.  Technifex's sister company, Technifex Products LLC holds numerous patents for simulated fire, water screen technologies, and specialty projection systems. All products are developed, engineered and fabricated at Technifex's facilities in Valencia, California .www.technifex.com
# # #
Media Contact:  Tracy Balsz, 323.428.9075 (direct)  tracyb@technifex.com
Hi-res images download:   DropBox