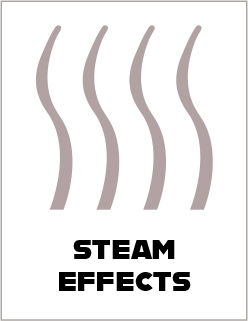 Technifex may just be the world's expert on producing fake fire. Over the past 25 years we have been perfecting the art of creating a realistic simulated fire effect. The secret sauce, steam.
Stemming from the rash of devastating fires in Las Vegas high-rises, nightclubs and other public venues over the last couple of decades ago, fire marshals began enacting and enforcing fire codes limiting the use of real fire indoors. This edict took hold not only in hospitality but within theme parks and the attraction industry. As a special effects company working heavily with Las Vegas tradeshows and Casinos at the time, and of course theme parks, Technifex' Principals Monty Lunde and Rock Hall, as well as long-time staffers Joe Starr, Joe Ortiz (VP Engineering) and Dutch Folckemer, set out to design and engineer the most realistic simulated flame effect possible. Over many, many experiments, they proved that the use of steam was the optimal element when added to an ordinary visual effect using lighting and fans.
Quite simply, steam rises naturally as does fire. By definition, steam is the gaseous phase of water which is formed when the necessary latent heat of vaporization is supplied to water at its boiling point. In Technifex' terms, steam is the process of creating a gaseous cloud from water that can be theatrically lit or manipulated via manifolds or fans to create a special effect. Over a ten-year period, the Technifex team perfected the manipulation of steam using custom manifolds and experimenting with different types of lighting and blower configurations.
Technifex Products that utilize our patented FauxFire® simulated fire system (steam):
Uses of Steam: (If you are a designer here are some suggestions for places to consider the use of steam)
Theme parks, attractions, restaurants, casinos, cruise ships, haunted houses
Any indoor venue that requires fire but is restricted from using real fire due to fire codes
Simulate volcanic eruption, fissures in earthquake, jets of hot gas to appear
To support an explosion
Steam curtains – obliterate view of next room (great for walk-through experiences)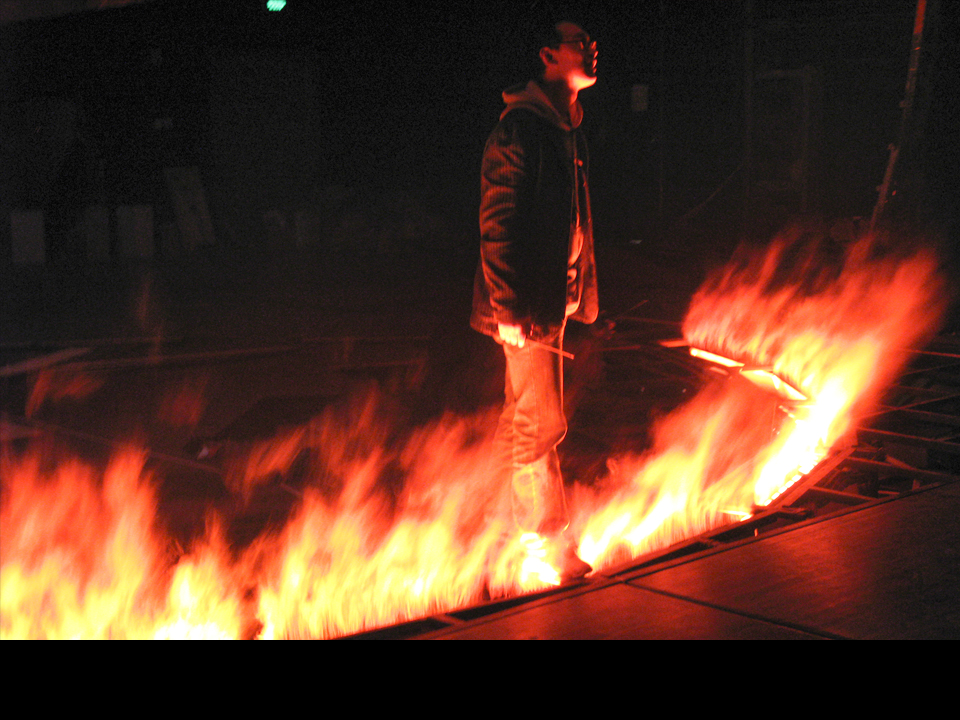 Most Unusual Application of Steam:
Probably our most unusual and challenging use of steam as an effect was for artist Jeffrey Koons, commissioned by LACMA to create a landmark sculpture, to suspend a 70' replica of a 1943 Baldwin 2900 steam locomotive over Wilshire Boulevard in Los Angeles, with wheels turning and smoke billowing from beneath and from the smoke stack – suspended 100 ft off ground. We invented a method of housing a boiler (suspended) to have steam shoot outward horizontally from the smokestack while suspended from a crane. Unfortunately, the project never got off the ground, quite literally.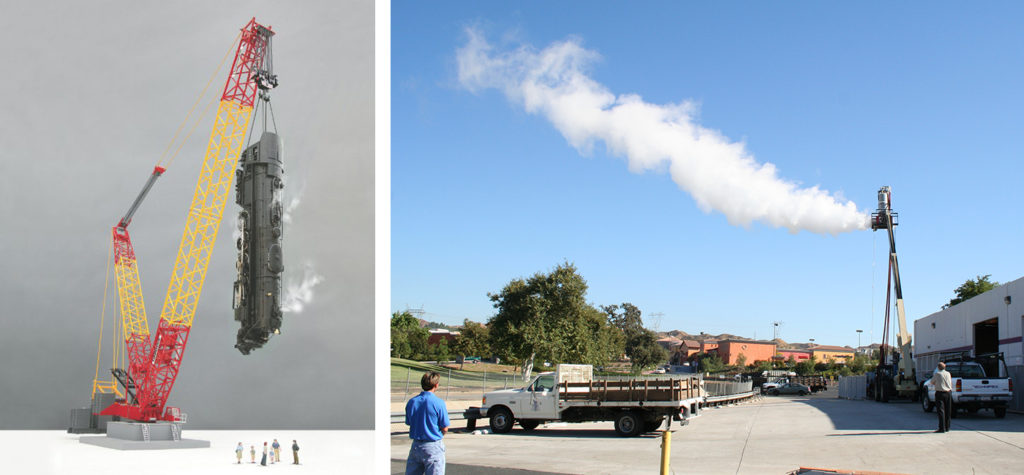 ---
Why use Steam?
Clean energy
No danger of starting a fire or burning people as there is no combustion
Releasing water vapor in the air, not depositing chemicals nor emitting toxic gases
Viable alternative to using theatrical smoke or liquid nitrogen or other systems that have expensive combustibles.
How is it Produced?
Boiling water supplied by a boiler. Boiler can be powered by electricity or gas.
The boiler can be separated from effect in a facility service area and, if properly designed, can be located hundreds of feet from the effect.
Technifex has the proper measuring devices to monitor temperature, flowrates, and pressures, as well as tools in house to size boilers and delivery lines to ensure safe and optimal operation.
Boiler(s) can be scaled to the size of the effect.
Boilers are an off-the-shelf product.
Easy to install by any licensed plumber.
Technifex does STEAM best!
No other special effects supplier in the world has committed to the R&D of steam effects and related technologies as much as Technifex has.
Our secret? We've learned over the course of more than 25 years how to manipulate steam to create the most realistic simulated flame anywhere, as well as how to use steam for other types entertainment systems.
We have three different size boilers in house and a myriad of support equipment for testing.
Technifex has developed a number of steam nozzle that do not "spit" hot water.
We utilize existing engineering principals and create equipment to work in entertainment venues.
"Atmospheric" type effects are a core competency of Technifex.
The takeaway – FauxFire® fools Fire Marshalls at events all the time – They believe it is real fire!
---