Slide Lites™ is the latest innovation in water park safety and entertainment technology from Technifex Products. Using safe, long-lasting UV LED's, Slide Lites add visual punch and animation to your water slides, while also helping riders anticipate sharp turns and curves inside dark slide tubes. Customizable, fluorescent adhesive art glows and pulses when illuminated by our UV LED lighting system. Slide Lites provide a cost-effective way to add story, brand, safety and great fun to the water slide experience.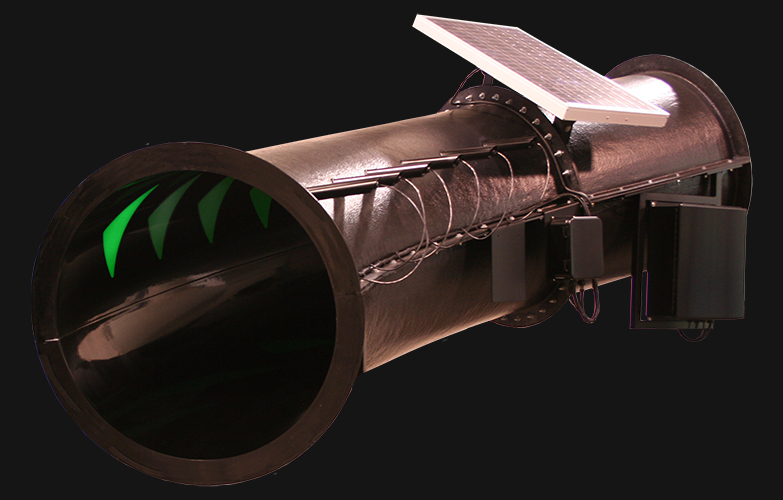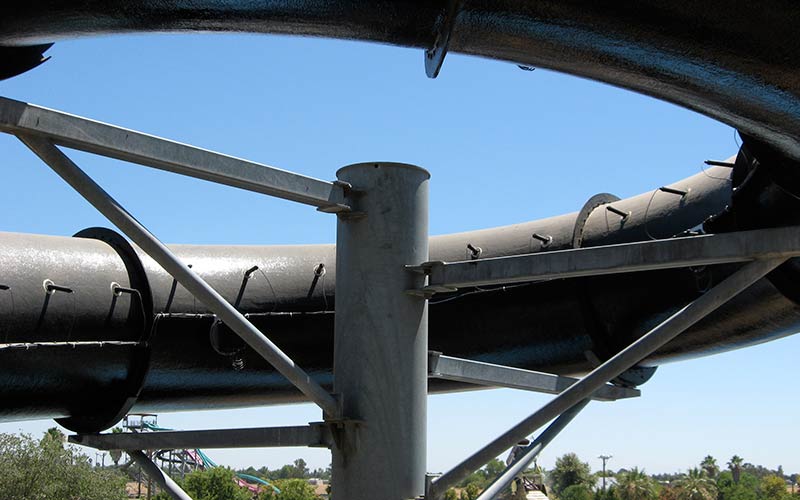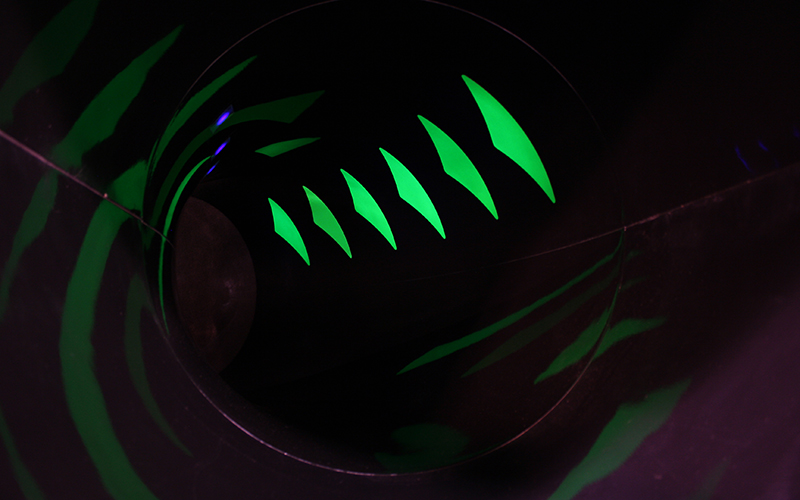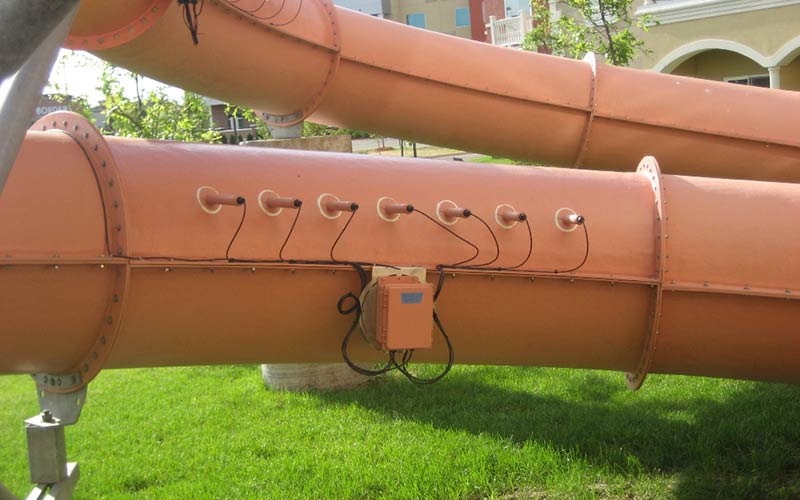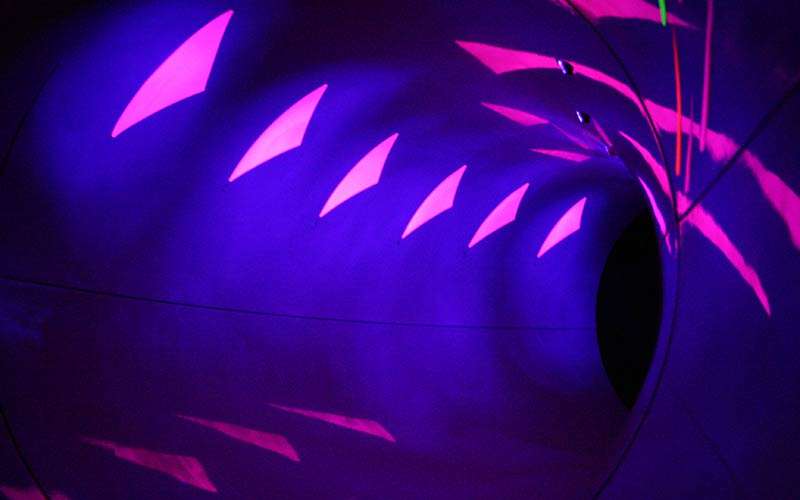 Overview
Slide Lites is designed to be easily serviceable, with the following features:
Solar power option minimizes operational costs.
Virtually maintenance-free, due to long-life (60,000 hour), low-consumption UV LED's.
Low voltage (12VDC) UV LED's are safe in a wet environment.
Programmable solid state digital controller provides the ability to chase LED's and "animate" fluorescent artwork.
Wiring and fixtures rated for outdoor use.
LED replacement is possible from within the slide tube.
Designed to allow off-season and/or off-hour retrofit of existing water slides.
Can be installed into existing standard 32" or 54" enclosed slide tubes.
High-strength adhesive artwork is available in a range of long lasting colors and can be produced in custom
shapes and patterns.
U.S. Patent: # 7,762,898 B2
Canada Patent: 2,703,346
Specification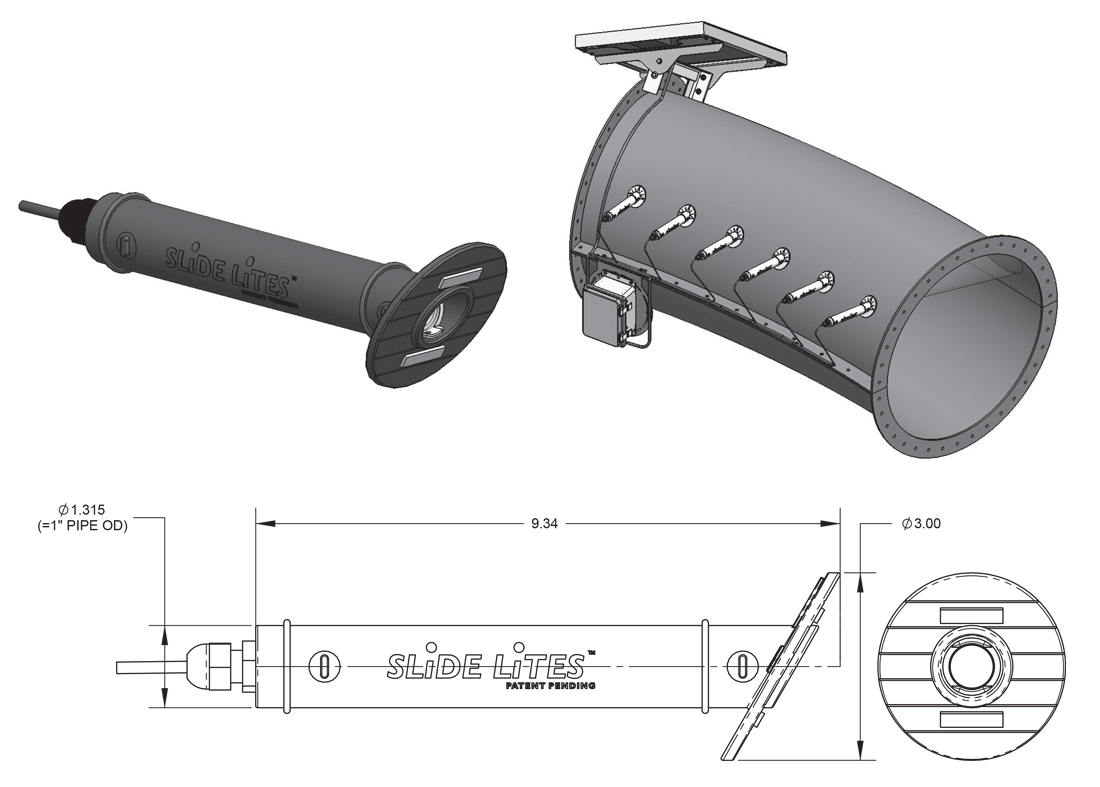 Slide Lites™ Installation Kit (25 Slide Lites)
Provided:
(1) Installation Manual & Service Manual
(25) Slide Lites w/ 11-foot cords (24 units plus 1 spare)
(1) Control Box (Includes battery system if solar panel option is ordered)
(3) J-boxes with sequencers (run up to 8 Slide Lites each)
(25) Vinyl Chevrons (adhesive back UV artwork)
(2) Spare Chevrons (adhesive back UV artwork)
(25) P-clamps with Hardware (8-32 x 9/16″ 18-855 Screws, Nuts and Washers)
(1) Horizontal Line Scribe Tool
(1) Tube 3M 4000 UV Adhesive
(1) Indicator Tool (for clocking each Slide Lite)
(30) 4″ x 4″ Clear adhesive back vinyl squares
(30) 2″ x 2″ Mylar squares
Vinyl Squeegee (for adhering vinyl squares)
Vinyl Locator Tape (For precise spacing of Slide Lites on slide tube)
Stainless brackets (for mounting control and sequencer j-boxes)
(24) 1/4-20 x 1 1/4″ Long SHCS with Nuts and Washers (for mounting sequencer and control boxes
Not Provided (Installation tools):
Low Voltage wire (for runs between j-boxes and control box)
1 5/8″ Hole saw with 1/4″ pilot drill bit
1/8″ drill bit
16″ Flexible Scale
Tape Measure
2″ Sanding Pads (80grit)
Electric Drill Motor
Spray Bottle with Soap
3/4″ and 2″ Blue Masking Tape (Painters or Low Tack)
Phillips #2 Screwdriver
11/32″ Socket Wrench
Wire Strippers
Allen Wrench (set)
Small Tweaker Screwdriver