New product unveiling of immersive heat blast effect for dark rides
Valencia, CA – November 7, 2016 – Technifex, a leader in entertaining technologies is debuting its latest EFX product, Dragon's Breath Heat Blaster™, at IAAPA Attractions Expo 2016 in Orlando, FL November 15-18, in Booth 1869.  The Dragon's Breath Heat Blaster is designed to safely release an intense blast of hot air at guests with timed precision in dark rides and other attractions.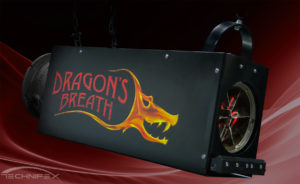 Utilizing compressed air and an industrial heat tube, the heat blaster stays hot with a constant low level of air flow.  When activated by a programmable cue, an air knife that blocks the hot air flow turns off and a hot blast of compressed air shoots out the nozzle instantaneously.  Just as quickly, the blaster can be de-activated and placed in "ready" mode awaiting the next trigger signal.
"There is a definite need to recreate natural phenomenon, such as fire and heat, in the Themed Entertainment industry.  Due to the extensive regulations prohibiting the use of real fire, Technifex developed Faux Fire™ simulated fire products.  Using Dragon's Breath Heat Blasters, we can now safely provide real heat to enhance simulated fire effects," remarked Monty Lunde, President, Technifex, Inc."  Dragon's Breath is the only special effect product available that provides an instant blast of intense heat."
Dragon's Breath™ Heat Blaster's initial installations can be experienced at Chimelong and Lotte World theme parks, combined with Technifex's Faux Fire™ simulated fire effects. Product specs can be found online at www.technifex.com/dragonsbreath.
About Technifex, Inc.
Founded in 1984, Technifex is a world leader in concept design, engineering and fabrication of show and entertainment systems, permanent iconic features and special effects.  Winner of twenty-two THEA and IAAPA awards, Technifex provides expertise through all phases of project development, including initial brainstorming, concept design, system and facility engineering, custom fabrication, equipment installation and commissioning for hundreds of theme parks and attractions, waterparks, museums, science centers, libraries, casinos, retail and corporate projects, tradeshows, and events worldwide.  Technifex's sister company, Technifex Products LLC holds numerous patents for simulated fire, water screen technologies, and specialty projection systems. All products are developed, engineered and fabricated at Technifex's facilities in Valencia, California .www.technifex.com
# # #
Media Contact:  Tracy Balsz, 323.428.9075 (direct)  tracyb@technifex.com
Hi-res images download:   https://www.dropbox.com/sh/sh80b9g4dr0fjo3/AABN6uQ7E1sPufdHBJ–A62ta?dl=0